Last weekend I was at Mythicon in Orlando. Sorry for not updating before hand, BUT my website crashed in the middle of the night. Well, because I crashed it…now it's funny. It wasn't funny at 1:00am the night before a con. It all worked out. My friend Dave came to my rescue.
Enough about that, lets talk cons.
I had a great time at the convention and I met some amazing people.
The artist that had the spot to next to me was amazing. She took commissions and because she's very very very practiced in speed drawing, she got them done in no time and they were just amazing. I didn't get a picture of  her because she seemed unbelievably shy, but here is her Deviant art link. http://applepai.deviantart.com/ We had a great time talking about all things anime and sci-fi and I have to say Pai, though very shy, is a huge reference for all things anime manga and awesome. She even did some artwork for me.
My husband dressed as Erwin Smith from Attack on Titan, and she took a picture I took of him and made it all shouju and awesome. I think she will do amazing things in the future.
This is MY Erwin: (you can even see a glimpse of Eren in the back ground)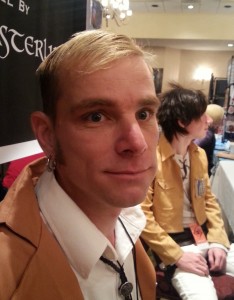 And this is what she turned him into, in like five seconds.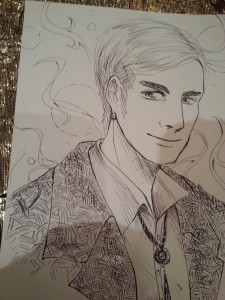 I've decided to not post a bunch of pictures of my favorite cosplays in lieu of one. Christina Goodin, had an amazing Pokemon cosplay. Admittedly I'm not part of the Pokemon fandom, but she did an amazing job at making something stellar. I was envious of how adorable she was, and  sweet, she's super sweet. She even offered to take  a picture with my book. She's a turtle or 'the' turtle Pokemon, She is all blue and spakly and even included a shell. (It's okay it takes a minute to get it.)
If you want to meet her, she's this hot ass dancer that will be performing at Shadocon in November.
As for me, I realize two things 1: I hate sitting at my booth an entire con… I love meeting people, that part rocks, but it is so hard when you want to go play. I just sort of missed out. 2: cons are a lot of work and I get disappointed easily. Seriously, I took it personally that it seemed I wasn't popular.
Today I realized I'm a writer… that is what I love and that is what I should do, so I may be making adjustments to booth arrangements in the future.
For a moment, I almost let my brain talk me out of writing. If I need proof that someone else will love what I do, I got it this weekend. I'm not mentioning names, but someone got my book and read it in like 12 hours…. I was flattered and excited. It made me excruciatingly happy and reminded me why I write. Yes, don't get me wrong the total package dream includes me supporting myself with my writing, but there is no better reward than someone that likes your book that much.
So, I'm taking a short break from con going, and focusing on what I love… writing. Because, who am I? I'm Tiffany Easterling creator of my own brand of cheesy paranormal science fiction.