As most of you know, DragonCon was essentially cancelled for this year due to safety concerns. They are having an online event You. can check that out at dragoncon.org.
I'm going to be sad about this for some time. Truth be told, after serious consideration, I had already decided to roll over my table to 2021. It was still a hard decision, and it's even harder to hear that the event was cancelled all together.
I love DragonCon. The 24/7, 5 day geek-a-thon, (I say this with affection because I am a geek) with all the costumes, panels, gaming, vendors, mech wars… the list goes on and on. Mostly, I think I will miss the people. There's a comradeship that happens there that cant be explained. People in your fave fandoms become your new bestie after spending an hour in line with them. And, you can spend hours talking about things that happened at the gaming table. So much fun.
Rest assured, I will be at DragonCon for 2021, peddling my brand of cheesy, scifi, romance.
In the meantime, I'm revamping my marketing plan. I think I've got some exciting stuff planned.  I'll be posting that later.
Anyway, that's really all there is to update. I'm still following quarantine guidelines so I'm spending a lot of time at home, playing video games and writing.
Just for funsies, here's my lazy cats enjoying their quarantine.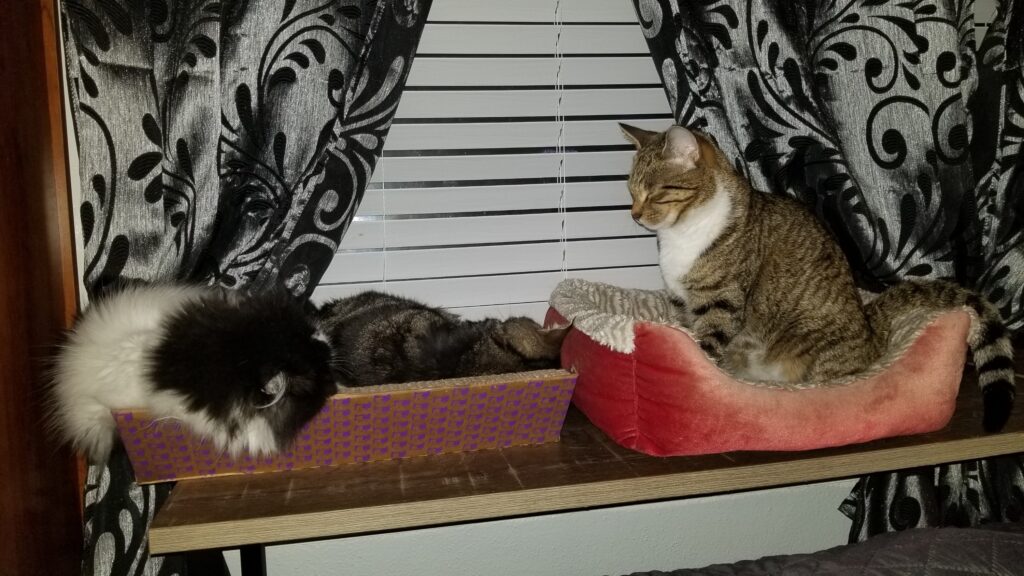 Who am I? I'm Tiffany Easterling, a little sad science fiction romance writer.